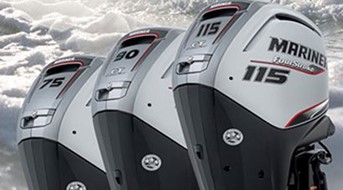 Mercury Marine, founded in 1939 as Kiekhaefer Mercury, is a division of the Brunswick Corporation. It is based in Fond du Lac, Wisconsin. The company manufactures Mariner marine engines.
Mercury Marine's primary business is outboard motors. Mercury Outboards, 30 Hp and less, are made by Tohatsu in Japan. Mercury Marine builds 40, 50 and 60 horsepower outboard motors in Suzhou, China. Mercury also manufactures engines over 75 horsepower at its facility in Fond du Lac in Wisconsin.
Mariner's renowned four-strokes lead the field by offering an unsurpassed level of smooth power, backed by quiet and smoke-free running and incredible resistance to corrosion from the lightweight, portable 2.5hp to the new 75hp, 90hp, 115hp and 150hp four strokes.
Mariner's legendary reliability is valued by the R.N.L.I. Police and rescue forces throughout the world. The complete range from 2.5hp to the Verado 300 are quality built, providing superior corrosion protection and supplied with a full five years parts and labour warranty.